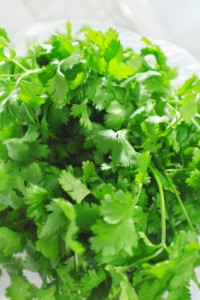 I got a big bunch of cilantro from my local food co-op this week and have been using it liberally in my salads, omelets, and of course smoothies. A small green leafy herb that's often used to garnish, don't take cilantro lightly, it packs a hefty nutritional punch.
In this day and age where we find ourselves bombarded by toxins from every direction it's important to get enough detoxification agents into our diet.
Cilantro is best known for its ability to detoxify heavy metals, in particular mercury from the body. Studies have shown that consuming large amounts of cilantro daily can actually mobilize mercury and other toxic metals from the central nervous system, which is why cilantro is often used with other herbs and supplements in chelation (removing heavy metals from the body) therapy.
Besides aiding the body's detox efforts, cilantro is also rich in vitamins and minerals such as magnesium, potassium, calcium, manganese, iron, and vitamins A, C, and K. Some of the health benefits associated with cilantro include easing inflammation, reducing free radical damage (antioxidant), improving cholesterol profile, helping with menstruation related issues, and easing digestive related issues like stomach gas, nausea, and diarrhea.
For more info on the health benefits of cilantro, click here.
If you don't like the taste of cilantro, don't fret, it's masked pretty well by the sweet fruit in this recipe. Now for this delicious mouthwatering tropical treat.
Tropical Cilantro Smoothie Recipe
The Ingredients
1/2 cup water
1/2 cup cilantro
1 cup fresh or frozen pineapple chunks
1/2 cup fresh or frozen mango chunks
Juice of 1/2 lime
1 teaspoon coconut oil
A dash of Celtic sea salt or other high quality salt
The Add-ons
1/4 avocado
1/2 cup fresh or frozen papaya chunks
A little ginger
Show Time
Place all of the ingredients into your blender and blend for 30-45 seconds or until the desired consistency is reached.
Nutrition Information
Calories: 179
Fat: 5g
Protein: 2g
Carbohydrates: 36g
Fiber: 4g
Sugar: 28g
Vitamin A: 31% RDA
Vitamin C: 196% RDA
Calcium: 4% RDA
Iron: 9% RDA
If you try this tropical cilantro smoothie please leave a comment below and tell me all about it. Happy Blending!