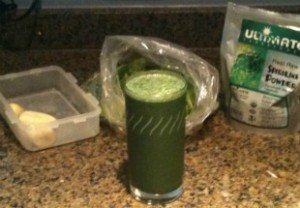 I'm really excited for this recipe swap with Sheleana and her partner Caleb from Young and Raw! Their site is chalk full of great smoothie recipes as well as raw food dishes and treats. As someone who loves green smoothies, their Iron-Rich Energy Greens Smoothie was right up my alley.
I made a slight modification to the original recipe by using a bit more spirulina since I didn't have chlorella on hand. The original recipe serves two. I cut the ingredient portions in half for one serving, which is what's listed below.
Is there any better way to start your day than with a delicious green smoothie for breakfast? I think not.
Spirulina may be a new smoothie ingredient for some. Spirulina is a single-celled, blue-green spiral algae that gets its green color from chlorophyll. Best known as a protein queen, it's around 65-70% pure protein by dry weight. Spirulina is available in tablets and flakes, but the green powder is ideal for smoothies.
Spirulina is rich in vitamins A (beta-carotene), B1, B2, B6, E, and K. Besides being a supreme source of protein, spirulina is also good for balancing brain chemistry, building the blood, boosting the immune system, and is a potent antioxidant.
It's been my experience that easing into spirulina is a good idea because of its potency and unique taste. If you don't have any spirulina, feel free to substitute with an available ingredient or simply make the smoothie minus spirulina.
Now for the Iron-Rich Energy Greens Smoothie recipe.
The Ingredients
1 cup of almond milk (substitute another nut milk or water)
2 cups of spinach
4 teaspoons spirulina
1 frozen ripened banana
Show Time
Put the lovely ingredients into your high speed blender and blend for 30-45 seconds or until the desired consistency is reached.
Please leave a comment below if you like this smoothie recipe. Happy Blending!