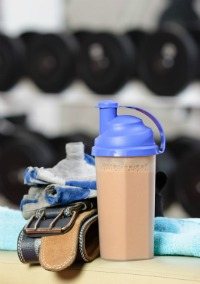 There's nothing like a filling and satisfying smoothie after a good workout to provide your body with the fuel it needs to recovery and rebuild. I recommend that you use your favorite protein powder in many recipes and can't emphasize enough the importance of using a high quality protein powder.
Last year a Consumer Reports test revealed contaminants such as cadmium, arsenic, lead and mercury present in some protein powders. You sure don't want any of those heavy metals in your smoothies.
I personally use and recommend Sun Warrior and Dr. Mercola's Miracle Whey protein powders. I've done my research on both and found them to be top of the line. Sun Warrior is raw vegan for people that don't do animal products. Both come in a chocolate flavor that I love and provide enough tastiness that I don't need to add an additional sweetener.
Here's my favorite post workout smoothie recipe that's high in protein and tastes great. Enjoy!
Post Workout Protein Smoothie Recipe
The Ingredients
1 1/2 cups milk (raw milk, almond, coconut, hemp)
1 fresh or frozen medium banana
1/2 cup frozen fruit (mixed berries, pineapple, mango, etc)
1 serving of your favorite protein powder
2 tablespoons flax or chia seeds
1 tablespoon coconut oil
A dash of Celtic sea salt
The Add-ons
1 tablespoon coconut shreds or flakes
2 raw eggs
1 serving green superfood powder
1 tablespoon maca
1 tablespoon cacao powder or nibs
Show Time
Place all the ingredients into your blender and blend on high for 30-45 seconds or until desired consistency is reached.
Nutrition Information
Calories: 659
Fat: 39g
Protein: 34g
Carbohydrates: 62g
Fiber: 10g
Sugar: 41g
Vitamin A: 10% RDA
Vitamin C: 27% RDA
Calcium: 52% RDA
Iron: 44% RDA
Feel free to post a comment about post workout protein smoothie. If you tried it, I'd love to hear how you liked it. Happy Blending!