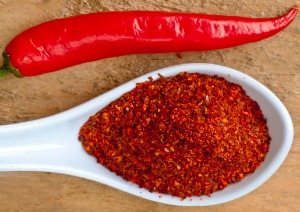 If you're a fan of spicy food, you're going to dig this smoothie recipe. When I first heard someone advocate adding spices like cayenne and chili powder into a smoothie I thought it sounded rather strange, but I had to give it a try.
Fast forward to today, and I routinely add spices into my smoothies. Some of my favorites are cinnamon, ginger, cayenne, and nutmeg. Adding spices is a super easy way to enhance the taste and boost the nutrition of your smoothies.
Remember, when brainstorming what to add into your smoothie to change it up, nothing is off limits, unless of course it's unhealthy.
This particular recipe calls for cayenne pepper and/or chili powder. Cayenne pepper is a ground red, hot chili pepper that's hotter than chili powder, which is a mix of cayenne, ground chili peppers, cumin, garlic, and oregano.
Health Benefits of Cayenne Pepper
Excellent for the circulatory system
Supports weight loss
Anti-cold & flu
Helps prevent migraine headaches
Anti-allergen
Digestive aid
Anti-inflammatory properties
Supports healthy detox
Joint pain reliever
Anti-fungal & anti-bacterial
A pinch of cayenne pepper goes a long way so be careful not to over do it.
Spicy Spinach Smoothie Recipe
The Ingredients
1 cup water
1 cup baby spinach
1 fresh or frozen medium banana
1/2 tablespoon coconut oil
1/4 teaspoon cayenne pepper and/or chili powder
A little honey, maple syrup, or stevia to sweeten (optional)
The Add-ons
1 tablespoon chia or flax seeds
1 serving of your favorite green superfood powder
1 serving protein powder of your choice
Show Time
Place all of the ingredients into your high speed blender and blend on high for about 30 seconds until smooth.
Nutrition Information
Calories: 173
Fat: 8g
Protein: 2g
Carbohydrates: 28g
Fiber: 4g
Sugar: 15g
Vitamin A: 10% RDA
Vitamin C: 32% RDA
Vitamin K: 182% RDA
Calcium: 4% RDA
Iron: 6% RDA
I'd love to hear if you tried this spicy spinach smoothie recipe; so please leave a comment below. Happy Blending!