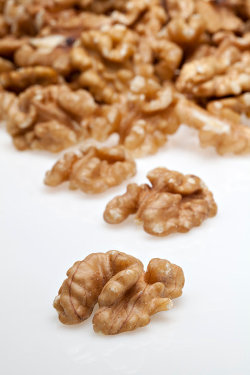 There's nothing like a warm, creamy, chocolaty elixir to start your day, especially when it's chilly outside. I love my smoothies, but once winter sets in here in Michigan I change gears and blend up elixirs to ensure I have the best day ever.
Believe it or not this is my first recipe featuring walnuts. There will be more to come featuring this healthy nut.
Here are some of the top health benefits of this lovely nut:
Help maintain your ideal weight
Antioxidant powerhouse
Improved cognition
Supports a healthy heart
Anti-cancerous
Good for you skin and hair
Anti-inflammatory action
Not too shabby. I also enjoy sprinkling walnuts on salads and ice cream, adding to trail mixes, making pesto, and snacking on plain.
If you're brand new to elixirs, I suggest you check out my first elixir recipe in which I go into more detail and explain why they're so wonderful:
A blend of chaga, reishi, and goji berry tea was what I used for this recipe. Any tea will do. The more medicinal the merrier. There are plenty of optional add-ons to boost the nutrition and flavor. Enjoy!
Chocolate Walnut Elixir Recipe
The Ingredients
1 cup of warm to hot tea
1/4 cup walnuts
1 tablespoon coconut oil
1/2 tablespoon cacao powder
1/4 teaspoon cinnamon
A dash of sea salt
1/2 tablespoon honey
The Optional Add-ons
1/2 teaspoon bee pollen (blended or as garnish)
1 tablespoon chia seeds or chia seed gel
1 tablespoon grass-fed butter or ghee
1 tablespoon coconut shreds or flakes
1/2 tablespoon maca
1/4 teaspoon cayenne pepper if you like it hot
1 serving protein powder or 1 tablespoon gelatin for added protein
Show Time
Place all the ingredients into your high-speed blender followed by the tea and blend for around 30-45 seconds or until nice and frothy.
Nutrition Information
Calories: 296
Fat: 25g
Protein: 5g
Carbohydrates: 16g
Fiber: 3g
Sugar: 9g
Vitamin A: 0% RDA
Vitamin C: 0% RDA
Calcium: 3% RDA
Iron: 11% RDA
I'd love to know if you try this chocolate walnut elixir and how you liked it. Please leave a comment below. Happy Blending!