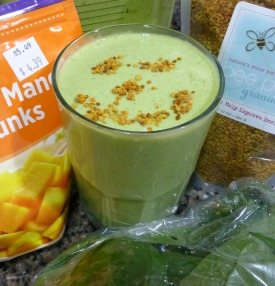 I admit it, I'm addicted! Addicted to superfood smoothies. I like to think of it as a healthy addiction :)
Not only do I love the taste, how I feel after drinking, and the health benefits, tossing a variety of superfoods into my blender is flat out fun. Thankfully, I'm not the only one who share's this passion.
When I bump heads with a fellow superfood smoothie maker recipes like this ensue. This recipe was inspired by my friend, Ian, a seasoned superfood smoothie maker himself.