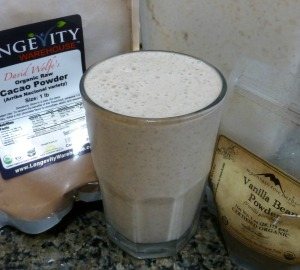 Get your sexy on with this delicious and highly nutritious chocolate smoothie!
I love the name of this smoothie, but can't claim it as my own. The name and recipe come from one of my followers, Muriel.
If there's one category of smoothies you can't have enough recipes for, it's chocolate. When Muriel shared this recipe with me I jumped at the chance to blend it up and post on my site.
I modified the original recipe a hair by adding coconut oil and using vanilla powder instead of vanilla protein powder. As always, feel free to tweak any recipe to meet your needs.
I had this for breakfast today and it was mighty delicious. The banana and chia seeds resulted in a prefect creamy texture and the cacao and vanilla powder complemented each other nicely.
I must say I'm proud of my Blendtec for thoroughly blending the two frozen bananas. For those with a less powerful blender you might find some "sweet chunks" in your smoothie :) Enjoy!
Sexy Chocolate Smoothie Recipe
The Ingredients
1 cup chocolate almond milk
1/2 cup coconut milk
2 fresh or frozen medium bananas
1 tablespoon cacao powder
1 tablespoon chia seeds or chia seed gel
1/2 tablespoon coconut oil
1/2 teaspoon vanilla powder or extract
A little honey, maple syrup, or stevia to sweeten (optional)
The Add-ons
1 tablespoon coconut shreds or flakes
Fresh or dried mint leaves
1 serving of your preferred chocolate or vanilla protein powder
1/2 tablespoon maca
Any other superfood(s) that you love
Show Time
Place all of the ingredients into your high-speed blender and blend for around 30-45 seconds or until nice and smooth. Note, if you don't have a very powerful blender you might want to blend everything except the coconut oil first, then drizzle it on and blend for another 5-10 seconds to avoid clumping.
Note, the calories for this recipe are pretty high. Half a cup of coconut milk clocks in at 223 calories. Exclude the coconut milk and/or share with a couple people if calories are a concern.
Nutrition Information
Calories: 599
Fat: 38g
Protein: 8g
Carbohydrates: 66g
Fiber: 11g
Sugar: 30g
Vitamin A: 10% RDA
Vitamin C: 36% RDA
Calcium: 39% RDA
Iron: 36% RDA
I'd love to know if you tried this chocolate sexy smoothie – please do tell in the comments below. Happy Blending!