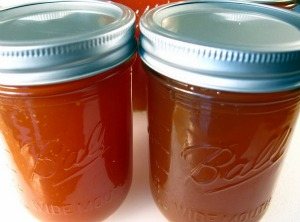 You're probably thinking to yourself, bone broth in a smoothie? It's extremely healthy, gelatinous, and tastes great, therefore it's a perfect fit. As I've written many times before, if something is healthy and will blend, it's a good candidate for your smoothies.
It never occurred to me to use bone broth (also known as stock) in a smoothie until I watched a recent video by Sarah of The Healthy Home Economist about Stock That Gels. Sarah mentions having a cup of stock with her breakfast every morning. Cool, but my morning meal is a smoothie 99% of the time. And then it hit me, why not add bone broth to my smoothie?
My first go round was semi-successful. I thought the gelatinous consistency of my stock would add thickness to my smoothie, but that wasn't the case. What I learned is that stock can replace all or some of the liquid in your smoothie. You'll still want to thicken your smoothies with a banana, avocado, nut butter, chia seed gel, coconut meat, frozen fruit, ice, etc.
In case you can't tell, I'm pretty excited about this discovery because bone broth (aka liquid gold) is extremely nutritive and I just found a convenient new way to further incorporate it into my diet.
A traditional food made by people around the world for centuries, bone broth is nourishing, healing, nutrient-dense, flavorful, and quite versatile. It's loaded with minerals that are easily absorbed by the body. Bone broth is rich in gelatin, collagen, glucosamine, and chondroitin, all of which are vital to the health of your body's connective tissue, bones, hair, skin, and nails. Anyone suffering from joint pain or arthritis should take note. Bone broth is also very healing to the digestive track.
Nutrition and Physical Degeneration author Dr. Weston A. Price, DDS said that bone broth can bring a dead man back to life.
Please note: the health benefits I just mentioned are for homemade stocks only, store bought will not do. For more information on bone broth and stock making videos please visit The Healthy Home Economist's videos on making Stocks and Broths. For a comprehensive article on the benefits of bone broth, see my article:
Bone Broth: Traditional and Superior Superfood
If you're using a sweet fruit like banana and/or sweetener you won't be able to detect the flavor of your stock in your smoothie, but you'll reap all the health benefits, which is what really matters. Enjoy!
Banana Bone Broth Smoothie Recipe
The Ingredients
1/2 cup raw milk (you can substitute almond or coconut milk or homemade kefir)
1/2 cup bone broth, preferably nice and gelatinous
1 fresh or frozen medium banana
1/2 cup fresh or frozen blueberries
A little honey, maple syrup, or stevia to sweeten (optional)
The Add-ons
1 teaspoon vanilla powder
1/4 cup organic almond or peanut butter
1/4 cup coconut flakes or shreds
Show Time
Place all of the ingredients into your high speed blender and blend for 30-45 seconds or until the desired consistency is reached.
Nutrition Information
Calories: 236
Fat: 5g
Protein: 8g
Carbohydrates: 44g
Fiber: 5g
Sugar: 28g
Vitamin A: 5% RDA
Vitamin C: 30% RDA
Calcium: 17% RDA
Iron: 4% RDA
Try smoothie recipe? Please leave a comment below and tell me all about it. Happy Blending!