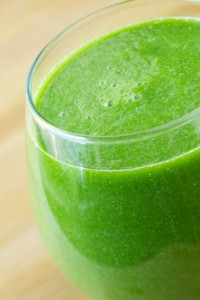 It's no secret that I love to use various spices in my smoothies to boost nutrition and improve the taste. This recipe calls for one of my favorites, ginger. With ginger you get that signature peppery, sweet taste and a bunch of health benefits. Combined with a little spinach, frozen blueberries, and banana, and you'll be rocking one healthy smoothie!
Quick aside, I recently purchased a new grater by Kyocera (Kyocera ceramic grater), which makes grating things like ginger and turmeric a breeze, and actually kind of fun. You can pick one up from Amazon for around $20. Highly recommended.
Why is ginger so healthy for you anyways? Here are a few reasons:
Anti-Inflammatory action (example: studies have shown relief from arthritis)
Offers protection against many cancers
Pregnant? Ginger is safe and effective at relieving nausea and vomiting
Antioxidant properties
Immune booster (helps fight off colds and flu)
Supports cardiovascular health
Don't limit your ginger usage to smoothies alone; use it when sauteing vegetables, making homemade salad dressings, rice dishes, and anything else that could use a little spice. Now that you're sold on ginger, it's time to blend up this delicious smoothie.
Ginger Spinach Green Smoothie Recipe
The Ingredients
1 cup water
1 cup baby spinach
1/2 avocado
1/2 fresh or frozen medium banana
1/2 cup fresh or frozen blueberries
1/4 inch ginger, peeled and minced (or grated)
1/2 tablespoon honey (or sweeten with stevia or maple)
The Add-ons
1 apple, cored and diced
1 teaspoon coconut oil
1 serving of your favorite green superfood powder
1 tablespoon coconut flakes/shreds
Show Time
Place all of the ingredients into your blender and blend for 30-45 seconds or until the desired consistency is reached.
Nutrition Information
Calories: 190
Fat: 6g
Protein: 3g
Carbohydrates: 37g
Fiber: 6g
Sugar: 23g
Vitamin A: 10% RDA
Vitamin C: 40% RDA
Vitamin K: 208% RDA
Calcium: 5% RDA
Iron: 8% RDA
Try this ginger spinach green smoothie recipe? Please leave a comment below and tell me all about it. Happy Blending!