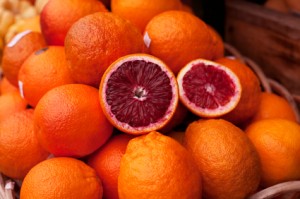 With a surplus of blood oranges on hand from a recent purchase of five pounds worth through localharvest.org, I decided to use a couple of these bad boys to make what turned out to be one ridiculously delicious smoothie. It was pretty healthy to boot, which is always my chief aim when making a smoothie.
The fruit in this smoothie combine to pack it full of potassium, dietary fiber, vitamin C, beta carotene, folate, magnesium, iron, and vitamins B1 and A. It's also very rich in antioxidants. The blood oranges I got are a dark orange on the outside and a vivid red on the inside from the powerful antioxidant anthocyanin.
The basic version of this smoothie doesn't call for any greens, but I went ahead and added 2 cups of fresh baby spinach turning this into a green smoothie. As always, feel free to tweak the ingredients however you'd like.
The Ingredients
1/2 cup water (adjust based on the consistency you're looking for)
2 blood oranges, peeled and quartered
1/2 cup of fresh or frozen pitted cherries
1/2 fresh or frozen banana
1 tablespoon coconut oil
A dash of sea salt
The Add-ons
2 cups spinach or kale for a green smoothie
1 tablespoon flax or chia seeds
1/2 teaspoon cinnamon
Show Time
Toss the ingredients into your high speed blender and blend for 30-45 seconds or until the desired consistency is reached.
Nutrition Information
Calories: 348
Fat: 15g
Protein: 3g
Carbohydrates: 56g
Fiber: 7g
Sugar: 39g
Vitamin A: 6% RDA
Vitamin C: 222% RDA
Calcium: 11% RDA
Iron: 8% RDA
Try this recipe or one like it? Please leave a comment below and tell me all about it. Happy Blending!