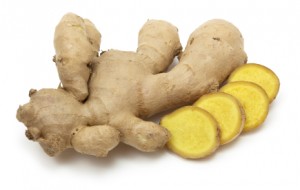 I find more and more people are embracing detoxification with the understanding that it's an essential part maintaining and achieving optimum health. With the chemical bombardment we endure in our daily lives, eating a clean diet alone isn't enough. Periodic detoxification efforts are needed. Detoxing doesn't mean an intense 7 day fast on nothing but water. You can do a gentler and more mild cleanse by incorporating ingredients like ginger into your smoothies.
Ginger is great natural detoxification agent because of its ability to fire up your body's detoxification work and purge toxins from the body. Ginger tea is a popular detoxification aid, which you could use as the base of your smoothie, however fresh ginger or powdered ginger spice work just fine.
Ginger can be used alone or combined with other detoxification aids, such as lemon juice. Ginger is also great for digestion and helps your body absorb nutrients and eliminate waste (part of detoxing). It's also welcome in other dishes like stir fry's and salads.
A peppery, sweet taste is how I would describe ginger when added to my smoothies. Alright, time to get your detox on with this ginger orange detox smoothie.
The Ingredients
1/2 cup water
1/2 cup orange juice (preferably organic and/or fresh squeezed or juiced)
1 fresh or frozen medium banana
1/4 inch ginger, peeled and minced
1 teaspoon coconut oil
3 – 6 ice cubes (optional)
The Add-ons
1/2 cup fresh or frozen mango slices
1-2 tablespoons lemon juice (to increase detoxification)
1/2 cup spinach and/or cup kale
1/2 cup fresh or frozen pineapple
Show Time
Toss all of the ingredients into your high speed blender and blend for 30-45 seconds or until the desired consistency is reached.
Nutrition Information
Calories: 202
Fat: 5g
Protein: 2g
Carbohydrates: 40g
Fiber: 3g
Sugar: 25g
Vitamin A: 1% RDA
Vitamin C: 121% RDA
Calcium: 2% RDA
Iron: 3% RDA
Try this recipe or one like it? Please leave a comment below and tell me all about it. Happy Blending!