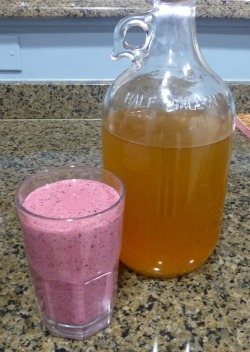 My foray into the wonderful world of kombucha began last summer and has now come full circle with my first kombucha smoothie!
For those that don't know, kombucha is a fermented tea. It's teaming with probiotics or friendly bacteria, which are increasingly getting more attention because of how important they are not only for digestion, but overall health.
Kombucha has a long history of use, in fact, the ancient Chinese went as far as labeling it "Immortal Health Elixir".
Here are a few of the key health benefits associated with this bubbly fermented beverage.
Increased metabolism and energy
Improved digestion
Headache and migraine relief
Alkalizing effect on the body
Helps rebuild connective tissues
Detoxification of the liver
Helps clear up candida & yeast infections
Improved eyesight
Anti-cancerous
Reduced blood pressure
Gray hair reduction
If you don't like the taste of kombucha, try "hiding" it in a smoothie.
Store bought kombucha is good, but somewhat pricey and not as healthy as homemade. Making it yourself really isn't that tough. Here's a good how to make kombucha video.
I made the version of this smoothie minus ice cubes and it was a little runny. If you like nice, thick, creamy smoothies either include ice cubes or 1/2 banana. Enjoy!
Blueberry Coconut Kombucha Smoothie Recipe
The Ingredients
1 cup kombucha (homemade or store bought – I like GT's Kombucha)
1/2 cup fresh or frozen blueberries
1 heaping tablespoon chia seeds or chia seed gel
1/4 cup coconut flakes or shreds
1 teaspoon coconut oil
1/2 tablespoon honey (substitute maple syrup or stevia)
3-6 ice cubes (optional)
The Add-ons
1/3 avocado for a thicker, creamier smoothie
1/4 inch ginger, peeled and minced or 1 teaspoon powdered ginger
1/2 cup additional fresh or frozen berries
Show Time
Place all of the ingredients into your high-speed blender and blend for around 30-45 seconds or until nice and smooth.
Nutrition Information
Calories: 310
Fat: 320g
Protein: 3g
Carbohydrates: 34g
Fiber: 8g
Sugar: 19g
Vitamin A: 1% RDA
Vitamin C: 13% RDA
Calcium: 6% RDA
Iron: 12% RDA
I'd love to know if you tried this blueberry coconut kombucha smoothie – please do tell in the comments below. Happy Blending!