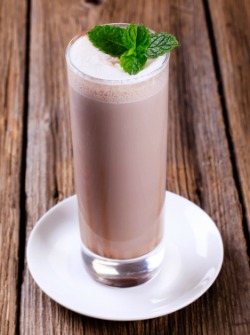 This smoothie is for all the coffee, latte, and mocha lovers out there.
For some people, the day doesn't officially start until they have their morning coffee.
What if you could combine your morning coffee with several healthy ingredients resulting in a delicious and highly nutritious superfood smoothie? Sounds pretty good, doesn't it?
You can use pretty much any liquid as the base of your smoothie, coffee being a viable option.
Coffee along with the other ingredients this recipe calls for combine to deliver a good deal of nutrition. Just what your body needs to ensure you have the best day ever!
There's seems to be an ongoing debate over whether or not coffee is actually healthy or not. My research has led me to believe a cup or two a day is perfectly fine – assuming that you're not adding in loads of sugar. An organic coffee is also going to be healthier.
This recipe calls for chilled coffee, but you could use a warm, but not boiling hot cup and see how you like it. Warm smoothies can be very comforting on a cold winter day. Another option is to forgo the fruit (banana and cherries) and use a tablespoon or two of coconut oil for a rich, creamy, elixir. Finally, you can freeze your coffee and use the ice cubes in your smoothies. Experiment and see what you like best.
If you're not a coffee drinker, simply substitute your favorite black tea or just use more milk. Enjoy!
Cherry Chocolate Mocha Smoothie Recipe
The Ingredients
1/2 cup coffee, chilled
1/2 cup vanilla almond milk
1 fresh or frozen medium banana
1/2 cup fresh or frozen pitted cherries
1 teaspoon coconut oil
1/2 tablespoon cacao powder
1/4 teaspoon cinnamon
A dash of Celtic sea salt
A little honey, maple syrup, or stevia to sweeten (optional)
The Add-ons
1/2 tablespoon maca
1/4 teaspoon vanilla extract
1 serving chocolate or vanilla protein powder
Show Time
Place all of the ingredients into your high speed blender and blend for around 30-45 seconds or until your desired consistency is reached.
Nutrition Information
Calories: 233
Fat: 7g
Protein: 3g
Carbohydrates: 44g
Fiber: 7g
Sugar: 25g
Vitamin A: 5% RDA
Vitamin C: 26% RDA
Calcium: 20% RDA
Iron: 12% RDA
I'd love to hear what you think of this cherry chocolate mocha smoothie in the comments below. Happy Blending!