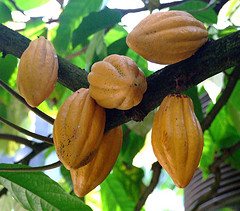 If you don't like chocolate you should stop reading this now. Chocolate is a food of the gods, literally. The 18th century Swedish scientist Carl Linnaeus thought cacao was so important he gave the tree the name Theobroma cacao, or "Cacao, the food of the gods".
If you're not familiar with the word cacao (pronounced "ka-kow"), it's what all chocolate is made from and is actually a bean (also known as cocoa bean). Cacao beans grow in a fruit pod that hang from the trunk of the cacao tree as seen in the picture above.
Most people equate chocolate with candy and sugar, and lump it with foods to be avoided or only eaten on special occasions. While most processed or adulterated chocolate should be considered as such, cacao in its raw form is one of the top superfoods in the world.
Why Chocolate is a Superfood
Antioxidants: Cacao packs a tremendous antioxidant punch, with more antioxidants per weight than blueberries, acai, pomegranates, goji berries, and red wine.
Feel Good: Cacao is rich in the amino acid tryptophan, which is used by the body to produce the neurotransmitter serotonin, nature's feel good chemical.
Brain Health: Nutrients in chocolate have been implicated in enhancing cognitive performance.
Magnesium: Cacao is the the top whole food source of magnesium. Could lack of magnesium be why so many women crave chocolate? Magnesium is an underrated mineral that promotes good health in a number of ways.
Vitamin C: Extremely rich in this all important vitamin.
Heart Health: Numerous studies have shown cacao to be beneficial to cardiovascular health.
Good Teeth: Chocolate and the health of your teeth have long been associated.
Here's the best news ever: you can eat chocolate and not feel guilty!
Cacao blends well with most smoothie ingredients, but in my opinion goes best with chocolate protein powders, bananas, berries of all kinds, coconut products, avocados, vanilla, and bee products.
It should be noted that cacao on its own is rather bitter; so be sure to include a sweet fruit, protein powder or sweetener to bring out the rich chocolaty taste in your smoothie.
I prefer cacao powder for my smoothies, but nibs will work too, and make a great addition to homemade trail mixes.
Chocolate superfood smoothie time!
Chocolate Superfood Smoothie Recipe
The Ingredients
1 cup milk (almond, coconut, hemp, raw milk)
1 fresh or frozen medium banana
1/2 cup fresh or frozen berries (strawberries, blueberries, raspberries, or a mix)
1 tablespoon cacao powder
1/2 tablespoon cacao nibs (optional)
1 tablespoon chia seeds or chia seed gel
A dash of sea salt
A little honey, stevia, or maple syrup to sweeten (optional)
The Add-ons
1/2 tablespoon coconut oil
1/4 teaspoon cinnamon
1 serving of your preferred (chocolate) protein powder
Show Time
Place all the ingredients into your high-speed blender and blend for around 30-45 seconds or until nice and smooth.
Nutrition Information
Calories: 228
Fat: 6g
Protein: 5g
Carbohydrates: 41g
Fiber: 10g
Sugar: 19g
Vitamin A: 10% RDA
Vitamin C: 88% RDA
Calcium: 37% RDA
Iron: 20% RDA
Please leave a comment below if you try this chocolate superfood smoothie. Happy Blending!