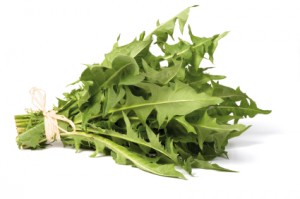 I often hear complaints from people who are sick and tired of rotating between only spinach and kale in their green smoothies. News flash! There's a wide variety of green leafy veggies to choose from. Arugula, radish greens, swiss chard, collards, beet greens, lettuce, and one of my personal favorites, dandelion greens.
Dandelion greens are a very healthy option, and most people have free access to them right in their own backyard. Although, you might want to do some research on the best time of year and places (tall, well watered grass is ideal) to harvest wild dandelion greens. You definitely want to avoid areas sprayed with herbicides, pesticides, near roadsides, or where animals often do their business.
Apple, banana, lemon, and dandelion combine to offer much in the way of health benefits. You'll be getting plenty of dietary fiber, vitamins, minerals, antioxidants, and important plant nutrients that support healthy immune function, proper digestion, and light detoxification (from dandelion greens and lemon).
Coincidentally, while in the process of writing this recipe post an article on Natural News was published on research showing dandelion to be a potent cancer cell killer. The studies were based on dandelion tea, which is an option for the base of your smoothies, but I bet most of the health benefits are also derived from the plant itself. Check it out: Dandelion Cancer Prevention.
If you're new to dandelion greens, they can be a little bitter; so you may want to only use 1/2 cup, or substitute 1/2 cup of spinach. Enjoy!
Apple Dandelion Green Smoothie Recipe
The Ingredients
1 cup water
1 apple, cored and diced
1 fresh or frozen medium banana
1 cup dandelion greens
1/2 lemon, peeled and seeded
The Add-ons
1 tablespoon chia seeds or chia seed gel
1 tablespoon coconut flakes/shreds
1 teaspoon coconut oil
1 serving of your favorite green superfood powder
Show Time
Place all the ingredients into your blender and blend for 30-45 seconds or until the desired consistency is reached.
Nutrition Information
Calories: 230
Fat: 1g
Protein: 3g
Carbohydrates: 59g
Fiber: 10g
Sugar: 34g
Vitamin A: 19% RDA
Vitamin C: 81% RDA
Vitamin K: 541% RDA
Calcium: 13% RDA
Iron: 13% RDA
Try this apple dandelion green smoothie? Please leave a comment below and tell me all about it. Happy Blending!