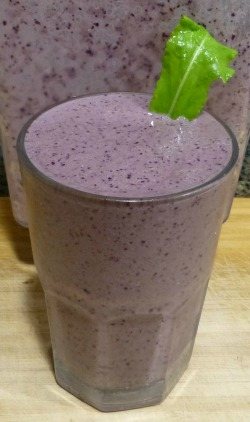 If you dig the peppery, spicy flavor of arugula then you're going to love this smoothie. If you're not a fan of arugula then I suggest finding another healthy smoothie to kick-start your day with.
Arugula is one of my favorite greens. I get excited like a kid in a candy store when it's available through my local CSA. I typically combine arugula with other greens to make a spicy salad mix, and occasionally toss it into my blender to spice up my smoothie.
Besides being decidedly delicious, arugula offers some fantastic health benefits.
Vitamin Rich: arugula is high in a bevy of vitamins including A, C, and K.
Mineral Rich: arugula also contains a number of minerals including iron, magnesium, and copper.
Anti-Cancerous: as with all cruciferous vegetables, the phytochemicals in arugula help prevent many types of cancer.
Aphrodisiac: centuries ago the Romans discovered those who ate it on a regular basis were more sexually energized. Who knew?
Arugula has a slight cooling effect making it a perfect summer green. Don't limit yourself to smoothies and salads, try adding arugula to soups, wraps, grains, and make pesto with it.
If you love the taste of arugula and eat it straight like I do, use 1 cup and skip the spinach. Enjoy!
Spicy Arugula Smoothie Recipe
The Ingredients
1 cup milk (almond, coconut, hemp, raw)
1/2 cup arugula
1/2 cup baby spinach
1/2 cup frozen blueberries
1 tablespoon chia seeds or chia seed gel
1 tablespoon coconut oil
A dash of high quality sea salt
1 tablespoon honey
The Add-ons
1/3 cup coconut shreds or flakes
A dash of cinnamon
1 serving of your preferred green superfoods powder and/or your preferred protein powder
1 tablespoon maca, cacao, or any other superfood(s) that you love
Show Time
Place all of the ingredients into your high-speed blender and blend for around 30-45 seconds or until nice and smooth. Note, if you don't have a very powerful blender you might want to blend everything except the coconut oil first, then drizzle it on and blend for another 5-10 seconds to avoid clumping.
Nutrition Information
Calories: 306
Fat: 21g
Protein: 5g
Carbohydrates: 28g
Fiber: 8g
Sugar: 17g
Vitamin A: 44% RDA
Vitamin C: 22% RDA
Calcium: 43% RDA
Iron: 21% RDA
I'd love to know if you tried this spicy arugula smoothie – please do tell in the comments below. Happy Blending!