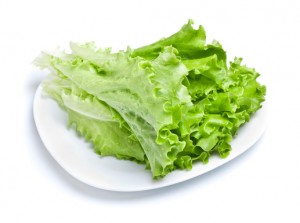 Lettuce isn't only for making salads, you can use it in your green smoothies as well. It's low in calories, tastes good, and is easy to blend. A little pineapple, mango, banana, and romaine lettuce make for one delicious smoothie.
This recipe calls for romaine lettuce, which is one of the healthier varieties of lettuce available. Romaine is especially high in vitamins A, K, C, and folate. It's also a good source of dietary fiber and contains moderate amounts of manganese, potassium, and iron. The vitamins, minerals, and phytonutrients in romaine lettuce help prevent and alleviate a host of health problems.
When selecting your lettuce, look for crisp, unwilted leaves that are free of any dark or slimy spots. Stick to organic and local when you can.
Tropical Romaine Lettuce Green Smoothie
The Ingredients
1 cup water
2 cups romaine lettuce chopped into small pieces
1/2 cup fresh or frozen pineapple
1/2 cup fresh or frozen mango
1/2 fresh or frozen medium banana
A little honey, stevia, or maple syrup to sweeten (optional)
The Add-ons
1/2 tablespoon coconut oil
1 tablespoon coconut flakes or shreds
1 tablespoon chia seeds or flax seeds
1 apple chopped (green apples go well with romaine)
1/2 cup fresh or frozen blueberries
Show Time
Place the ingredients into your high speed blender and blend for 30-45 seconds or until desired consistency is reached.
Nutrition Information
Calories: 159
Fat: 1g
Protein: 3g
Carbohydrates: 40g
Fiber: 6g
Sugar: 28g
Vitamin A: 31% RDA
Vitamin C: 131% RDA
Vitamin K: 126% RDA
Calcium: 6% RDA
Iron: 8% RDA
Please leave a comment below if you try this tropical romaine lettuce green smoothie. Happy Blending!