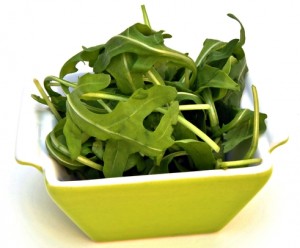 Tired of the same old spinach or kale green smoothie? Mix things up with arugula. Arugula has a strong bitter or almost peppery taste, a result of the alkaloids, or plant medicine it contains.
Arugula is classified as a cruciferous vegetable along with broccoli, cauliflower, cabbage, kale, collard greens, and others. This class of vegetables are renowned for their protection against cancer. Here are the top health benefits attributed to arugula and most cruciferous vegetables in general.
Arugula contains important phytochemicals, vitamins, minerals, and antioxidants. The phytochemicals in arugula have been shown to detoxify carcinogens before they damage your cells. The beta carotene (lutein and zeaxanthin) present in arugula is a potent antioxidant. These are believed to be the one-two punch that make it such a powerful cancer preventative.
Low in calories, arugula is a great source of dietary fiber, vitamins C, A, K and P, iron and potassium. Arugula is also great for improving the quality of your blood, and known for its aphrodisiac qualities.
Many health experts recommend eating several servings of cruciferous vegetables per week. Is there an easier way than blending into your smoothies? For more information on the array of health benefits cruciferous vegetables have to offer, click here.
A little arugula can go a long way in the taste department; so I suggest using 1/2 cup arugula and 1/2 spinach the first time you try it in a smoothie. Unless you're adventurous or not adverse to an overly bitter/peppery taste, go ahead and use a full cup.
Arugula Green Smoothie Recipe
The Ingredients
1 cup water
1/2 cup arugula
1/2 cup spinach
1 fresh or frozen medium banana
1/2 cup fresh or frozen strawberries
1 teaspoon coconut oil
A dash of high quality sea salt
A little honey, stevia, or maple syrup to sweeten (optional)
The Add-ons
1/2 cup fresh or frozen blueberries
1/2 cup fresh or frozen raspberries
1 serving of your favorite green superfood powder
Show Time
Place all of the ingredients into your high speed blender and blend for 30-45 seconds or until desired consistency is reached.
Nutrition Information
Calories: 174
Fat: 5g
Protein: 2g
Carbohydrates: 33g
Fiber: 5g
Sugar: 18g
Vitamin C: 97% RDA
Vitamin K: 107% RDA
Calcium: 6% RDA
Iron: 11% RDA
Please leave a comment below if you try this arugula green smoothie. Happy Blending!