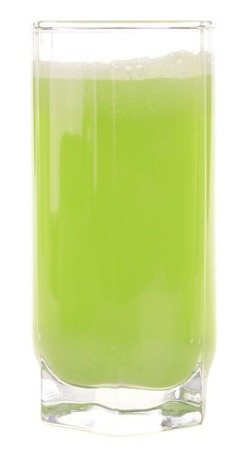 It's officially glowing skin time here at Healthy Smoothie HQ!
I figured a good juice recipe for your skin would be a nice compliment to my most recent smoothie recipe, The Official Glowing Green Smoothie.
Nothing brings out the glow in your skin like fresh juice. This recipe contains some of the most beneficial fruits and vegetables for healthy, supple, beautiful skin.
Here are the ingredients with a brief description of how each promotes healthy, glowing skin.
Apple: Apple's contain antioxidants that prevent cell and tissue damage, wrinkles and aging. I say an apple a day keeps the dermatologist away :)
Cucumber: The juice of cucumbers is an excellent source of silica, known to improve your complexion and overall health of your skin. They're also very hydrating with their high water content – properly hydrated skin being a must for glowing skin.
Papaya: Like apples, papayas are rich in antioxidants, and contain the enzyme papain, known to cure skin impurities.
Celery: Also very hydrating, celery contains a bevy of vitamins and minerals such as magnesium, chlorophyll, folic acid, and vitamin C, all of which are great for your skin.
Lemon: Lemons promote beautiful skin primarily through their high vitamin C content. A glass of water with a little lemon juice and honey first thing in the morning is a great skin cleanser.
Ginger: Rich in skin supporting antioxidants, vitamins, and minerals, ginger is also a potent anti-inflammatory, promoting smoothness and an evened skin tone.
Note, you can use these topically as well to improve your skin or remove a blemish or age spot. Run a quick Google search for more information.
Smoothies are a staple in my diet, but I like to mix it up once in a while with a little fresh juice. Occasionally I'll use fresh juice instead of water, milk, or tea in my smoothies. For those looking to detox, a juice feast is worth exploring.
The proportions in the this recipe render a nice tall glass of juice. Double up the ingredients for a larger juice and more skin glowing effects. Enjoy!
Super Skin Glow Fresh Juice Recipe
The Ingredients
1 large apple
1 medium cucumber
1 papaya, sliced and seeds removed
4-6 stalks of celery
1/2 lemon
1 small piece ginger root
The Add-ons
1/2 cup Arugula
3-5 medium carrots
1/2 cup parsley
3-5 small radishes
Show Time
Run all the ingredients through your juicer and mix well (I give my mason jar a good shake) after juicing if needed.
Let me know what you think of this delicious super skin glow fresh juice by leaving a comment below. Happy Juicing!